Hui Green Bean Cake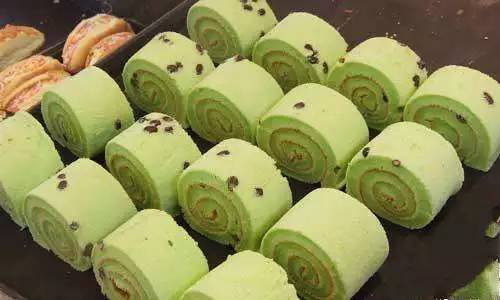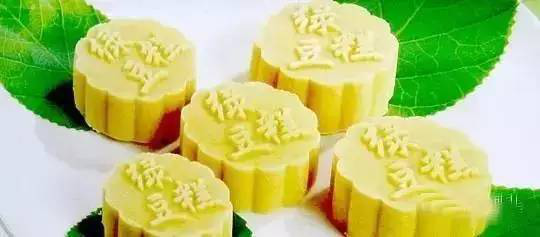 Moslem Hui cake store was founded in 1945. As the founder is Hui (Moslem), and his family name is also Hui, the store was entitled "Hui".
Over the past half century, the cake is made with local green beans and sugar, and it is made by secret recipe handed down from Hui's ancestors. The taste is so good that it became classical,  and popular with citizens and people in nearby areas.
2.Grilled Oyster
It is fresh and tasty, and popular among local people.
Grilled oysters can be roughly divided into three flavors: garlic, soy sauce and original taste.
Prise open the live oyster. Wash the oyster and one side of shell with clean water. Drain the oyster and set aside.Put half of the cleaned oyster shell on the charcoal fire.Top each oyster shell with one piece of oyster meat and add the sauce while roasting.When you hear the creak, turn the oyster meat over and add the sauce. It will be ready in a few seconds.
3.Powder Pigeon
Powder pigeon, is more commonly called Pigeon,being pronounced as Gezi in Chinese.
According to the legend, Empress Dowager Cixi had very luxurious meals every day. She has so many dishes for each meal that a rotation is needed ( the eunuch served the dishes in turns and Cixi basically had only one bite for each dish).One day the imperial kitchen made a dish. Cixi took a bite of it. The eunuch was just going to take it away as usual when Cixi ordered: "place it here( pronounced as Gezhe in Man accent, similar to "Gezi" in Mandarin)".Some flattering people considered it as the name of the dish, and it was then passed down until today.
Powder pigeon is an extremely thin and round pancake made of green bean powder. It can be stewed, fried and even steamed. You can find it everywhere in Qinhuangdao, whether it is a small shop in a village or a supermarket in the downtown.
4.Sesame Sauce Griddle Cake
Tasty and pure, soft and pleasant.
It is a famous special traditional snack in Qinhuangdao, and is made of flour, warm water, yeast, sesame sauce, sesame oil, salt, sugar and five-spice powder. With light yellow colour, the cake has distinct and multiple layers.
It tastes especially good when it is combined with hot-pot, or lamb soup.
5.Yang's Ham
In 1920, the founder Yang Tingzhen worked for a German boss, and mastered the skill of making German meat productions. In 1930s, Yang founded "Victory Ham Store" in Beidaihe, and "Yang's ham" became well known from then on.
Yang's Ham is now one of the famous specialty snack in Qinhuangdao. Its flavour is fresh, savory and special, and the aftertaste remains long.
6.the sizzling crab
The meat is fresh, with plenty of crab roe and rich crab paste.
The sizzling crab is a kind of unique crab in Beidaihe. It has a slender body with two circles in its two corners, just like two eyes. It likes staying in sandy soil.
7.The Sea Cucumber
There are numerous reefs on the coast of Beidaihe, with dense seaweed and abundant marine crumb. So the sea cucumber here are large with thick spines.
Sea cucumbers taste delicious, but not greasy. It is one of the eight treasures in the sea. For hundreds of years, it has been the one of the treasures on the banquet.
8.The Great Wall Fern Cake
The fern cake is made with leaves of the fern tree which grow in Qinhuangdao mountainous area along the Great Wall, by wrapping farina inside as the cover, and making Sanxian (a mixture usually contains a kind of sea food, a kind of meat and a kind of vegetable) as the stuffing. The cover is transparent, and the fern leaves give off a refreshing smell.
It is said that this fern cake has been taken to Japan.